<![if !vml]>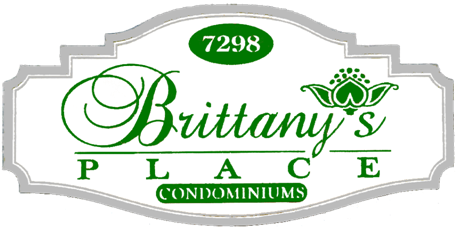 <![endif]>
Welcome!
to the Brittany's Place Condominiums
Official Information Website.
We are happy that you are here!
---
Latest News from the Board of Directors
ANNUAL MEETING
The Annual Meeting was held Tuesday afternoon, December 19th at 5:00pm at the Clubhouse.  The 2018 Board of Directors was elected from your proxy votes.  There were 6 candidates running for 5 Board seats.  The elected Directors and Officers for the coming year are listed at the About Us tab above.
---
President's Report
(December 19th, 2017)
Since my last report in August, the Board of Directors has been working to attain a bank financing loan for you, which has taken much more time than expected.  Regarding the list of priorities entitled "A Plan Forward for Brittany's Place", we are now at a point from which we cannot move forward without funding.  This list is available on our fairly new website, which has been established to better inform and communicate with all Owners and Tenants of Brittany's Place, as well as providing access to BPCA documents and forms.  The site may be found at  www.BrittanysPlaceCondos.com.
In anticipation of receiving funding, it is necessary to begin the Special Assessment for the project, which has been determined by the Board of Directors and the monthly amount is reflected on the last page of the 2018 Annual Budget handout.  The Special Assessment payments include interest, plus an additional factored amount to maintain our loan payment schedule to the bank.  The first monthly payment of the Special Assessment is due January 1st, 2018.  You will be receiving TWO coupon books for the year 2018.  One for your Regular Monthly Assessment and the other for your Special Monthly Assessment.  Please use these coupons with separate checks when mailing payments and please pay on time.
Since our last meeting, we have re-roofed building 6 with the new architectural shingles and this expenditure came from our current Reserves.  All building permits have been received and Trinicon is ready to proceed with the project as soon as the loan monies are available.
From the date of the Vision 2017 project approval by the membership, the Board has been seeking funding.  It is nearly unbelievable at how slow bank decisions move.  To date, 20 major banks have been contacted and the only bank that is still showing interest is Freedom Bank of St. Petersburg, FL.  We have been working with them since August!  In my last conversation with Vice Chairman Andy Williams on November 29th, he advised me that he had finally gathered all the materials necessary to present the loan to his Loan Committee for consideration.  He also stated that we should expect a yes or no answer within 2-3 weeks, which will be December 21st.  We wait with great hope and anticipation that our loan will be approved.
I would like to thank the Board, our Property Management team, Trinicon, and everyone else who has supported me this year as President.  Together, we can all make Brittany's Place Great Again!
Respectfully Submitted,
<![if !vml]>
<![endif]>
David J. DeKoker, President
---
A PLAN FORWARD FOR BRITTANY'S PLACE:
ITEMS OUTSTANDING & INITIAL ORDER OF PRIORITY
<![if !supportLists]>1) <![endif]>ATTAIN RESTORATION FUNDING SOURCE
<![if !supportLists]>2) <![endif]>RE-ROOFING OF ALL 9 BUILDINGS
<![if !supportLists]>3) <![endif]>RE-SIDING OF ALL 9 BUILDINGS
<![if !supportLists]>4) <![endif]>CODE VIOLATIONS SETTLEMENT
<![if !supportLists]>5) <![endif]>PROPERTY SECURITY SYSTEM INSTALLATION
<![if !supportLists]>6) <![endif]>BLACKTOP REPAIR OR REPAVING
<![if !supportLists]>7) <![endif]> PARKING SPACES RE-PAINTING AND NUMBERING
<![if !supportLists]>8) <![endif]> TENNIS COURT REPAIR
<![if !supportLists]>9) <![endif]> LANDSCAPE REPAIR OR REPLACEMENT
<![if !supportLists]>10) <![endif]> TERMITE TREATMENTS